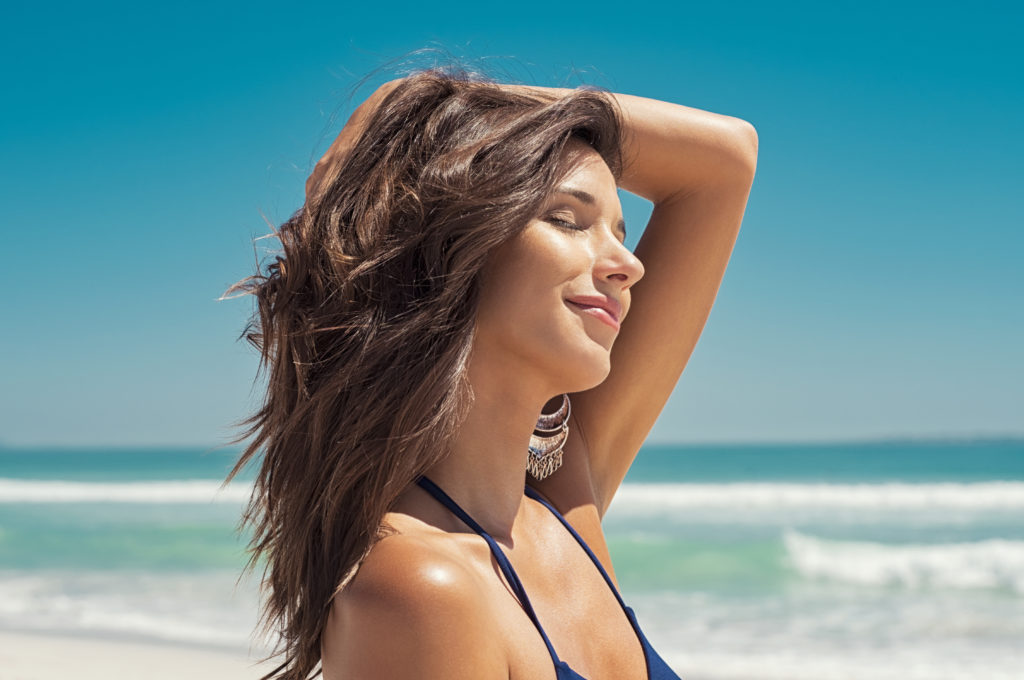 With the summer season well underway, tanners and beachgoers have a sudden desire for vitamin D intake. Whether you're hitting the beach, riding your bike, or attending a summer festival, you'll end up spending a majority of your time outside during the summer. While there's nothing wrong with the excitement, it's still vitally important to shield your skin from the sun. An important tip to remember is that you need to be applying some form of sunscreen more than once a day. According to a report done by the CDC, less than 15% of men and 30% of women use sunscreen daily. The fewer people who use sunscreen in their daily routine, the more frequent the cases of sun damage and skin cancer. About 90% of all skin cancer diagnoses are the result of overexposure to UV rays.
Being aware of these facts can help you take the proper steps towards protecting your skin in the sun. One way of doing this may involve visiting New York Facial & Body Rejuvenation. Unlike any other medical spa, we provide services, such as Microneedling in Nassau County, that can work on achieving both inner and outer beauty!
How to Protect Your Skin From the Sun
There are countless ways we can protect our skin from the sun, but the most common method is through the use of sunscreen. Sunscreen contains a combination of active and inactive ingredients that prevent the skin from receiving burns from the sun's UV rays. It is essential to wear sunscreen with SPF 15 or higher depending on your skin type, your location, and the duration of exposure.
Many people believe that if it isn't a sunny day, you don't need sunscreen. This is not the case. The sun is always emitting UV rays, so plan to wear sunscreen at any time you're going outside for longer than a 20 minute period. Doing so can help prevent skin cancer, sunburn, premature aging, and unsightly dark spots. If you've lost skin elasticity or received dark spots from sun damage, Microneedling in Nassau County can help to rejuvenate the skin.
Other ways you can prevent sun damage:
Wearing a hat while out in the sun can help protect you from those UV rays.
Wearing loose, long-sleeved shirts and pants can help protect your body from UV rays.
If you're going to be out during the hours of 11am-2pm, you may want to wear protective clothing in addition to sunscreen, as this time of day is when the sun is highest in the sky.
Wear wide-brimmed sunglasses that filter UV light while also protecting the skin under your eyes from premature aging.
How can Microneedling in Nassau County help?
The prevention of sun damage is an essential part of keeping our skin healthy. However, at times we might forget to utilize our prevention methods. If your skin has already been damaged by the sun, don't lose hope! At New York Facial & Body Rejuvenation, we offer Microneedling in Nassau County to help reduce the following conditions:
Fine Lines.
Deep Wrinkles.
Scars.
Dark Spots.
Hyperpigmentation (due to sun damage).
Microneedling works by puncturing the top layer of skin with tiny needles to create minor, painless wounds which stimulate the skin's natural healing process. This natural healing procedure results in induced collagen production and skin cell turnover, resulting in fresh, elastic skin cell production.
If you want to improve the look of your skin after receiving sun damage, contact New York Facial & Body Rejuvenation to schedule an appointment for Microneedling in Nassau County today!